Free Subscription Services to Save Money on Books! - List
Hello, everyone! I'm back, and I'm here to list some websites that you should subscribe to if you love books! And let's face it, if you're here, you love books. Basically, these websites alert you to price drops on books you love for absolutely free. I'll list off the websites, tell you exactly what each one does, and give you some links to find these beautiful subscription services. But enough about that, let's get onto the list!
First up is a website many people know about, but I feel the need to mention it because it is so popular. You may have guessed it. I'm talking about BookBub.com. BookBub sends you an email filled with book deals (including free books) that are tailored to your genre tastes and the eReader you use. All you need to do is add your email and complete your profile, which you can do
here
.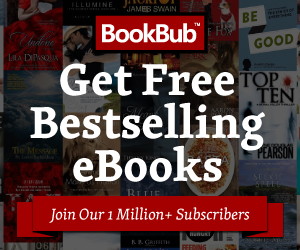 Up next is BookSends.com. It works the same way BookBub does. You enter your email and pick the genres you enjoy. Then you get a daily email filled with book deals based on you preferences. You can fill out your new profile
here
.
Now, I must mention the next website because they are run by the Harper Collins Publishing company, which is one of my favorite publishing companies. It's called BookPerk, which I found adorable. They are also an email-based subscription service like BookBub and BookSends, but they also have an app so that "you'll never miss a deal!" You can start you subscription service
here
!
RiffleBooks is next on our list. It works the same way BookBub and BookSends works. It tailors your subscription service to what genres you like, and it works with all eReaders. So if you read your books on a Kindle, Nook, or on your iPad, you'll find the right format in your inbox! You can start this subscription service
here
!
This next email subscription service is a little bit quirkier than the others on the list. You can tell just by what they're called. They're BookGorilla.com, and they claim to find the best deals on the most popular authors like Picoult, Grisham, and Patterson. Other than that, they work like our other subscription services, but they also let you choose how many book deals you want in your email-a-day subscription service. Set it up
here
!
The Fussy Librarian is next on our list, and it takes your email subscription a step further by not only tailoring which books you would like to read based on genre but also by your preferences on profanity, sex, and violence. It's like choosing movie ratings but for books! You can start your subscription to The Fussy Librarian
here
!
The next website has a really interesting subscription service. eReaderIQ is a service that let's you know when prices drop for eBooks like the other services, but they also allow you to pick specific books and authors to follow! That means if you are waiting for
Library of Lost Souls
by Ransom Riggs to drop in price, just add it to your wish list and eReaderIQ will let you know if the price drops! The only setback is that it only works for Amazon books, but if you do have a Kindle or the Kindle app, you can start your subscription
here
!
The last website is the subscription service that I found to be the most promising. The service is called Luzme and they work similar to eReaderIQ except that they have books for different platforms like Kobo, Nook, Android, and Apple. They also import books from other watch lists like GoodReads and Amazon. It does not have an email-a-day subscription service, but you can supplement one with previous service I mentioned! You can start your watch list
here
!
That's it for this list! I hope it leads you adding more wonderful stories to your virtual bookshelf! Comment down below with subscription services that you find useful! Subscribe to the blog by adding your email address to the Subscribe Box down below or off to the right. Add me to your circles by clicking the Google+ Button on you right. Follow me on twitter @
KK_Donna_Blog
for up to date information on the blog and ridiculousness about my life. Follow the tumblr dedicated to the blog which you can find at this
link
. Read on, lovelies! I'll see y'all next post!