Allegiant - Trailer Reaction!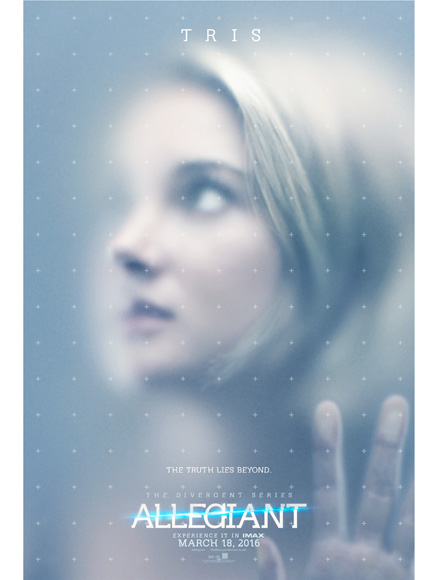 Hello, everyone! I'm back, and I'm here to react to the Allegiant Official Trailer - "The Truth Lies Beyond" movie trailer! This trailer has just dropped today, and I can't wait to see it. I was really surprised by the characters posters (you can see Tris's poster above), and I'm wondering how it was translated from the movie. I have also seen some GIFs on tumblr from the trailer that has left me with some question marks, but overall, I have no idea what to expect from the trailer. With that said, let's get on to the reaction.
Just in case you haven't read any other reactions from me, let me tell you how this is going to go down. I'm going to put the video down below, and then I'm going to type out my thoughts as they happen during the video. Then, I'll talk about the overall feeling of the trailer. Let's get started!
Mama Four is starting off with a voice over. Move over, Jeanine!
I love how the last movie was like, "We can go beyond the wall!" Now this movie is like, "JK, guys. We don't really know what's out there."
What!? This just turned real Star Trek-y (or Star Wars-y? You decide!).
Yep, we were just invisible. But it's totally safe. Trust us.
OMG, four has a fan base, and I'm dying! Don't they know it's not about him? It's about Tris! Get it right, LOL.
Peter - keeping it real since they climbed over the wall.
The technology is insane!
Well, would you look at that. Tris is toats special.
Wait, what? Did that happen?
Well, maybe we'll get our act together enough to beat the - oops never mind. Forgot who was in charge.
What was that? But for real?
Okay, so I did expect it to be a great deal different from the book just because that's what happened with
Insurgent
, but I have to say that I didn't expect this. It's just so different that what I expected, and I'm not sure how I feel about it. There were a few cute/impressive moments, but for the most part, I was confused. It does look a bit out-there (or space-y), but I'm not quite sure if I'm ready to label it as ridiculous or appropriate.
I also have to question making this into two movies. I don't see where they're going to split up the plot, which makes me wonder what the story is going to focus on the next movie.
Overall, I'm feeling excited and nervous about this movie. I'm sure we'll be seeing more promotions as March looms closer, and then we'll really see what this movie is made of.
That's it for this post! Comment down below with your thoughts about the trailer! Subscribe to the blog by adding your email address to the Subscribe Box down below or off to the right. Add me to your circles by clicking the Google+ Button on you right. Follow me on twitter @
KK_Donna_Blog
for up to date information on the blog and ridiculousness about my life. Follow the tumblr dedicated to the blog which you can find at this
link
. Read on, lovelies! I'll see y'all next post!